Universe at War Expanded Edition
Mod for

UAW
| | |
| --- | --- |
| Category: | N/A |
| Created: | Thursday March 6, 2008 - 12:00 |
| Updated: | Tuesday April 22, 2008 - 14:27 |
| Views: | 4300 |
| Summary: | A basic mod that will allow the use of humans and more |

Staff says

-

Members say

3.0

Average

3.0/5.0

1 vote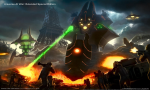 This mod is my first and is hopefully a great way to start my modding path for universe at war. Yes everyone is going to mod humans in but this mod will not only add the humans but will also include some units from Nufai's Skinwalker race.
There will be new skinwalker units for Hierachy and new army units for the military. There will also be 4 new maps Afghanistan, Quebec and also Machu Picchu & Fort McNair
As of 10th March 2008 i am looking for 3 beta testers for 0.1 beta.
Links / Downloads
Credits
| | |
| --- | --- |
| Eldarion25 | Skinner |
| lycan | Coder |
Comments
Display order: Newest first
sdf3454 - Saturday August 28, 2010 - 8:35
broken link man
lycan - Friday March 14, 2008 - 10:42
Thanks
Duke - Friday March 14, 2008 - 1:04
Keep up the good work buddy. Looking great
Add comment