Open Source BIG Editor 0.581 (Unofficial Release)
| | |
| --- | --- |
| Category: | Modding Utilities |
| Created: | Wednesday March 5, 2008 - 18:18 |
| Updated: | Sunday December 25, 2016 - 6:25 |
| Views: | 23583 |
| Summary: | A program to load, save and manage .meg files. |

Staff says

-

Members say

5.0

Average

5.0/5.0

2 votes
OS BIG Editor started as a .BIG file browser for Command & Conquer 3, Generals and Battle for Middle Earth games, but it has been expanded into a package editor, supporting the .meg files used by Petroglyph Games in games such as Star Wars: Empires at War, Universe at War, Grey Goo, 8-Bit Armies, etc.
The program features:
-> Load, save and edit .big and .meg files. (.BIG file can be saved with or without Refpack compression used on C&C3)
-> File extraction: You can extract files from these packages using the menu or dragging and dropping them into windows explorer.
-> File Addition: You can add files to your package through the menu (add directory) or dragging and dropping your files from windows explorer.
-> File reorganization: You can create new directories and move files internally, as well as editing file names and directory names in a very intuitive way. The program also allows you to delete files.
-> File preview: You can preview TGA, PNG, BMP and JPEG files straight in the program. The program also contains a binary browser and several options to optimize its usage. You can also open the files with the default program (for the file extension) or a pre-defined Notepad type of program, such as Notepad++ (recommended). Note that to use Notepad++ with all files, you need to hack the options.ini).
-> Multiples Languages: This version of the program has english and russian support, but you can add any language later as you wish.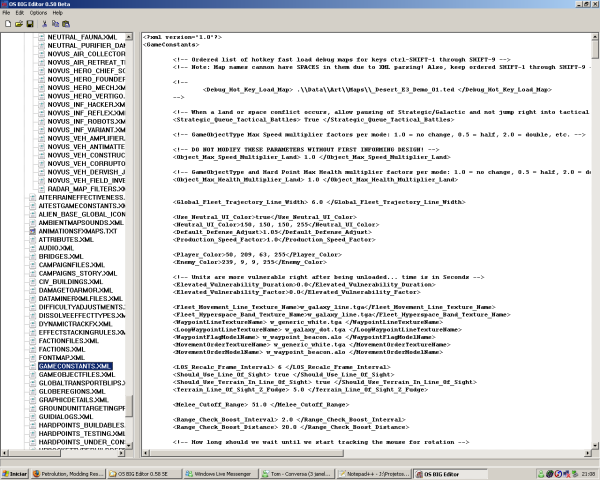 Note however that this is an unfinished version. This means that:
-> Real Time Edition feature is not working correctly. We heavly recommend you to uncheck it.
-> The program will have custom settings that will allow you to use programs to interpret certain file types or open certain files. This was not written yet.
-> Options was not worked on for ages and most of the options of the program are not changed in the preferences yet. However, the options.ini file can be read and edited by humans.
-> The graphics there are not the final version.
-> There is no documentation for the program done yet. The language files will be changed in the 0.6 release as well, to include the options and other things.
-> This is an emergencial release. The source code is not available in the package, but it is available at svn.ppmsite.com and future bug fixes and versions with new features will be available there.
Updated January 2015
: It now opens End of Nations and Grey Goo .meg files. Exception for config.meg from these games.
Links / Downloads
Credits
| | |
| --- | --- |
| Gustavo Huffenbacher | TPNGImage |
| Olaf Van Der Spek | XCC's CRC32 code. |
| TSHyper | Additional graphics. |
| Siberian GRemlim | Russian language |
| Alexander Ionov | AES decryption |
Comments
Display order: Newest first
Banshee (Admin) - Friday December 23, 2016 - 22:12
I've updated this program to support Grey Goo.

--------

New update that should allow you to open Grey Goo's config.meg and 8-Bit Armies/Hordes/Invaders config.meg. Thanks Mike_nl to figure out how to do it and share with the rest of the community at his site:
http://modtools.petrolution.net/docs/MegFileFormat
lycan - Friday March 7, 2008 - 11:13
A great program worth to download great work. Very Handy
Add comment