Thrawn's Revenge: Fall of the Republic Minimod
Mod for

FOC
| | |
| --- | --- |
| Category: | N/A |
| Created: | Monday March 30, 2009 - 8:43 |
| Updated: | Friday April 17, 2009 - 7:42 |
| Views: | 5477 |
| Summary: | Thrawn's Revenge Fall of the Republic Minimod. This is for EAW: Forces of Corruption, not just EaW. |

Staff says

-

Members say

-

Average

-

0 votes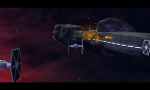 Additions:
Empire:
Delta Squad
Zann Consortium:
General Grievous & Invisible Hand
Magnaguards
Legal:
The models, code, textures and voiceovers in this mod ARE NOT to be used/released without the permission of the mod leader (Arbiter) and the original creator.
Contact Arbiter (mod leader) at ThrawnsRevenge AT Gmail DOT com
You download and install and play this at your own risk, the Thrawn's Revenge Team is not responsible for any damage to you or your computer.
=--------------------------=
Installation:
To install Move the included .BAT to your LucasArts\Star Wars Empire at War Forces of Corruption folder and move Thrawns_Revenge_FOTR_Minimod to your Mods folder. Double click the .BAT to play.
Links / Downloads
Credits
Add comment